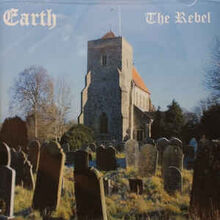 The Rebel is a bootleg released in 2014, it was put out anonmously, so therefore there isn't no indication on who put it out in the first place.
"The Rebel" consists of early Earth sessions and gigs, including the bootleg's title track and sought after one. Tracks 4 and 6 are instrumental jams and track 7 is by The Magic Lantern, Osbourne was said to have doing vocals for the band, but his name was confused with Mike "Oz" Osborne and he handles vocals and bass.
Track Listing
NOTE: "Please Don't Let Me Be Misunderstood" has Ozzy on backing vocals.
Blue Suede Shoes (cover, 1969)
The Rebel (1969
When I Came Down (1969)
Thomas Jam (1969)
Early One Morning (1969)
The Unknown (1969)
I Don't Wanna Go To Sleep Again (Magic Lanterns, 1968
Please Don't Let Me Be Misunderstood (Chris Sedgwick, 1975)
Ad blocker interference detected!
Wikia is a free-to-use site that makes money from advertising. We have a modified experience for viewers using ad blockers

Wikia is not accessible if you've made further modifications. Remove the custom ad blocker rule(s) and the page will load as expected.