Black Sabbath has gone through a variety of line-up changes, some of them not even happening at all or only once, the most notable being the lead singer of Fleetwood Mac, Dave Walker.
1969-1978 Line-Up
This is the original line-up with Osbourne, Iommi, Butler and Ward. Ozzy walked out on the band when he wanted to start a solo career, it was then that the band got Fleetwood Mac vocalist Dave Walker in to record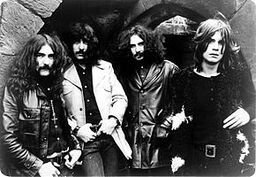 "Never Say Die!". They played with Dave Walker on a BBC session with a early version of "Junior's Eyes". It wasn't until the final moment that Ozzy came back and didn't want to do most of the tracks that weren't written with him.
Bill Ward had to sing for "Swinging The Chain" because Ozzy refused.
Due to Osbourne's drinking and drug abuse, he was kicked out by the band in 1979.
1979-1981, 1992
This is the "Dio Era" line-up with Ronnie James Dio, Tony Iommi, Geezer Butler, and Vinny AppiceAfter Ozzy's firing from the band, in the same year Sharon Arden (who would be Ozzy's future wife)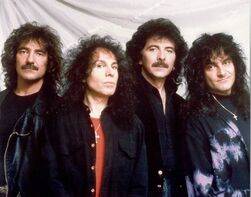 recommended Dio, Black Sabbath started to go in a different direction with their music. Instead of the gloomy atmosphere (that "Techincal Ectasy" and "Never Say Die!" faded away from as well), "Heaven and Hell" went for a Power Metal feel. After "Heaven and Hell" was released, Ward was fired similarly to Osbourne, only for a drinking problem. Ward was replaced with Vinny Appice for "Mob Rules".
After "Live Evil" was released, Ronnie and Vinny left the band and went on to form the band "Dio" until 1992 when they came back for "Dehumanizer".