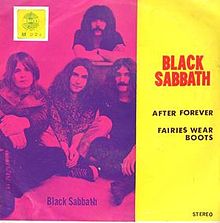 Fairies Wear Boots is the eighth and final track off of Black Sabbath's second studio album Paranoid
It was released in 1971 as a B-side for the "After Forever" single.
The song came about when an inccident occured where Geezer and Ozzy were smoking cannabis and saw fairies in boots running around a park, but the most known story around the song was that the band got attacked by skinheads (the skinheads being the fairies in the song), but it's been proven to not be true.
Lyrics
Going home, late last night
Suddenly I got a fright
Yeah I looked through the window
and surprised what I saw
Fairy boots were dancin' with a dawrf
All right now!
Yea, fairies wear boots and you gotta believe me
Yeah I saw it, I saw it, I tell you no lies
Yeah fairies wear boots and you gotta believe me
I saw it, I saw it with my own two eyes
All right now!
So I went to the doctor see what he could give me
He said Son, Son, you've gone too far
'Cause smokin' and trippin' is all that you do
Yeah!
Ad blocker interference detected!
Wikia is a free-to-use site that makes money from advertising. We have a modified experience for viewers using ad blockers

Wikia is not accessible if you've made further modifications. Remove the custom ad blocker rule(s) and the page will load as expected.